black-and-white photorealism
Black and white photorealism tattoos. A real-life photo forever with you.
Is this a picture or a tattoo? You don't really see the difference anymore: this is a black and white fotorealism tattoo
This isn't something you can just learn, it's a skill that you practice a lot and requires a lot of perseverance. In this Inksane-post you can read more about black and white photo realism tattoos.
Discover everything you have to know about black and white photo realism tattoos here.
Realism tattoo: old portrait
Realism tattoo: famous portrait
What is a black and white photo realism tattoo?
With black and grey photo realism tattoos they use only black ink. By thinning the black ink, we can obtain different shades of black and light grey to create dimension and depth. With this style you can still recognize the skin through the shadows. If you would like a black and grey photo realism tattoo, is it important to provide the artist with good example picture. 
With a cover up, the artist can choose, besides using black ink, to use grey colored ink. This ink provides a good coverage, allowing the underlying tattoo to become unrecognizable. Of course this ink isn't only used for covering a tattoo, but also to give a special effect to the tattoo.
Realismn tattoo of the customers wife with day of the dead makeup and rose
Black and grey photo realism tattoos like we know them today, originated in the sixties. But already since the Renaissance in the 1500's did we find the techniques from photo realism. Masters like Michelangelo and DaVinci tried to display their designs as true to life as possible by measuring the facial features. The style really broke through when the camera was invented. Executing photo realism on paper, is a spectaculare art.
At Inksane, black and grey realism, is one of the most practiced styles . Our artist are very skilled, trained and have years of practice with this art.
Does a black and grey tattoo last?
Black and grey photo realism tattoos are less sensitive to fade through exposure from the sun. Because we only us 1 color , the healing takes care of a more consistent aging. With color tattoos the needle goes a bit deeper in the skin to get a good saturated color. Because of this reason, the tattoo can take a bit more time to heal .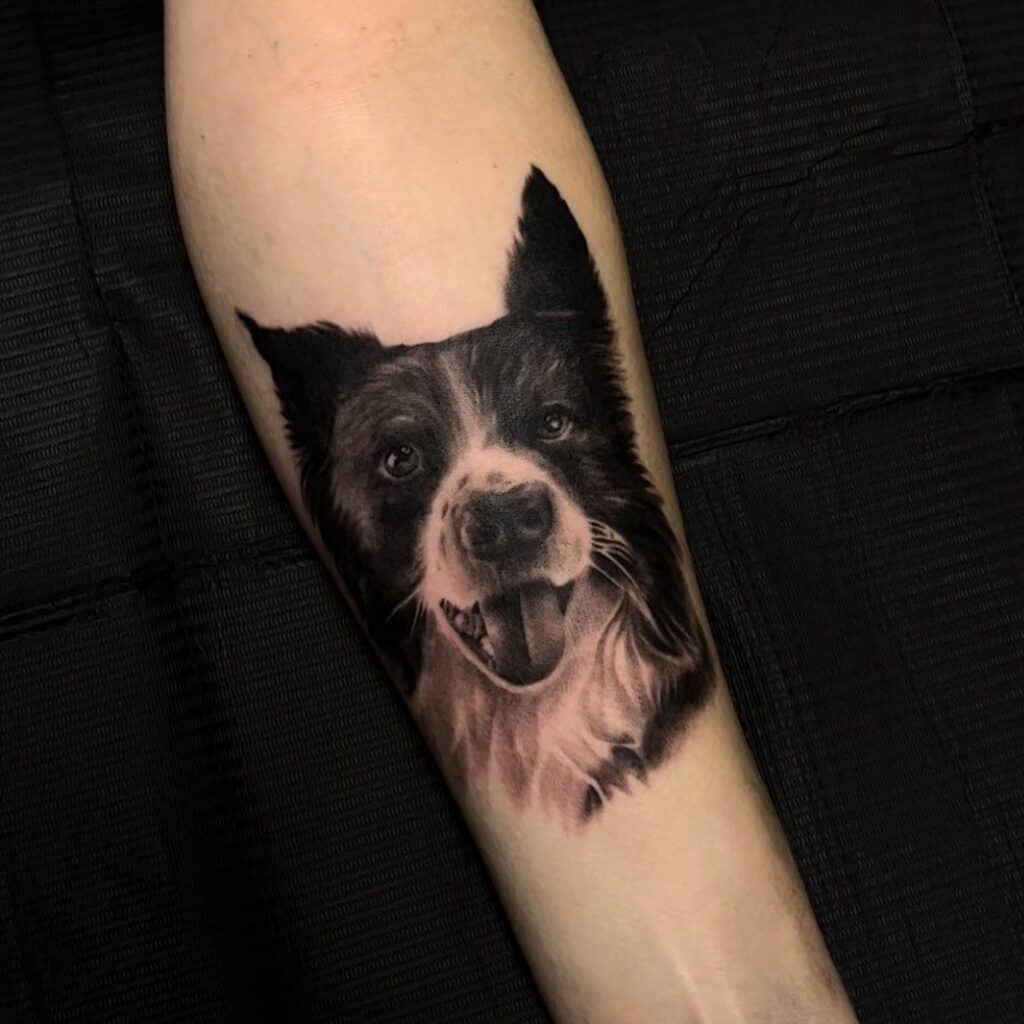 Realism tattoo with elephants
Have you heard from the Inksane Art Academy? 
At Inksane we are still pushing our artistic boundaries. Sometimes we invite experts from the classical painting scene to teach our artists as well as others. These courses are given by international experienced teachers. Why not from Belgium? Because we are focused on the European top level. Every teacher has their own specialty and teaches only that. The courses are given in English.
This unique exchange of knowledge about painting, drawing and tattooing between our artists, makes our studio the perfect learning space for artists who want to unfold their specialty. Click here or on the button below to read more about our art academy!
These are our black and grey photo realism artists.