ready for a splash of creativity?
Een ideale manier om meer kleur en beweging te brengen in je tattoo is via watercolor tattoos. Elke spetter verf is uniek, hiervan zijn dus geen twee dezelfde. Je kan een waterverf tattoo combineren met een groter, realistisch design. Tijdens het ontwerpen gebeurt dit ook op papier. De artiesten gebruiken we diverse technieken om het er echt te laten uitzien als een aquarel. Het tatoeëren zelf gebeurt immers wel met een tattoomachine en geen penseel, jammer genoeg…
Wil je meer weten over watercolor tattoos? Lees verder!
Wat is een WATERCOLOR tattoo?
Bij een watercolor tattoo worden kleurrijke vlekken nagebootst alsof het een aquarelverf werkje is. Door het minimale gebruik van zwarte lijnen verschilt deze stijl van de meeste genres. Het resulteert in zachtere tattoos die opgebouwd zijn uit subtiele veranderingen in kleur. De kleuren smelten samen met de huid en vervagen aan de randen. Er wordt een speciale manier van shaden gebruikt, het aanbrengen van diepte en schaduw, zodat deze randen ook meevloeien met de huid. Deze stijl bestaat niet lang, aangezien men vroeger gelimiteerd was in het aantal kleuren die de tattoo artiesten konden gebruiken. Vaak wordt dit genre gecombineerd met fine line tattoos en geometrie, mandala's, dieren, …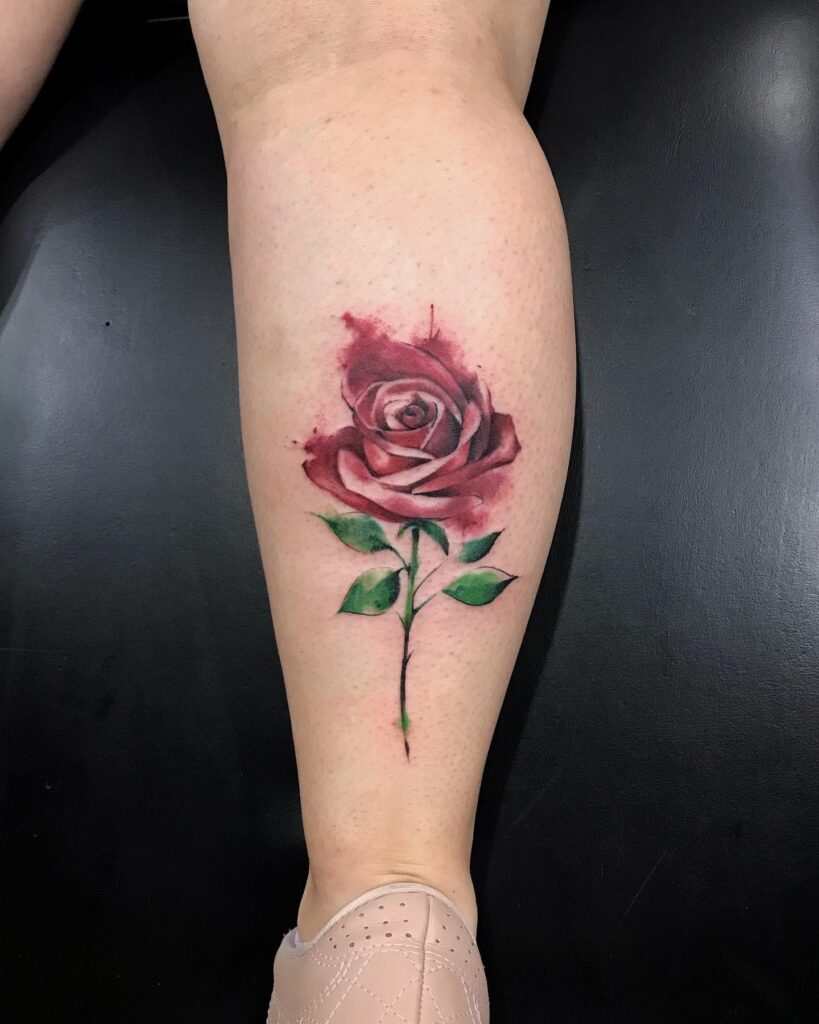 Watercolor tattoo door Maycon Espindola
WATERCOLOR tattoo designs
Praktisch alle onderwerpen kunnen vertaald worden in geweldige waterverf tattoos. Door een spetter waterverf kan je meteen een kleurrijker en dynamischer geheel bekomen.
Een aantal interessante onderwerpen voor watercolor tattoos zijn rose tattoos en andere bloemen, dieren tattoos, favoriete films, … Het is een stijl die je op praktisch alle onderwerpen kan toepassen dus go crazy!
WATERCOLOR TATTOOS VERZORGING
De verzorging van je tattoo duurt net even lang als de tattoo zelf. Uiteraard geneest je tattoo na een bepaalde tijd maar het is belangrijk om deze te blijven verzorgen.
De zon speelt een heel grote factor hierin. Daarom is het dus extra belangrijk om jezelf in te smeren met zonnecrème bij een genezen tattoo. Met een nog genezende tattoo vermijd je best direct contact met het zonlicht.
De nazorg van je tattoo zal dus ook de "leeftijd" van je tattoo bepalen dus zorg er goed voor!
WATERCOLOR TATTOO LATEN ZETTEN?
Wil je een watercolor tattoo laten zetten? Dan zit je bij Inksane op de juiste plek. Elke artiest heeft zijn eigen specialiteiten en daarbij hoort ook de stijl watercolor. Onze receptie helpt je doorheen het hele proces zoals het kiezen van een geschikte artiest en een inschatting van de wachttijd en prijs.
Heb je nog twijfels of vragen? Onze Inksane receptie staat voor je klaar! Contacteer ons hier of kom langs in één van onze shops.
See you soon! 
Dit zijn onze watercolor artiesten:

Warning: file_get_contents(https://www.tattoogenda.com/app-api/wordpressPluginIArtistsPerGenre.php?authKey=23A3E2F6EAB2B5AE&genreID=13): failed to open stream: HTTP request failed! HTTP/1.1 500 Internal Server Error in /data/sites/web/inksanebe/www/wp-content/plugins/TattoogendaArtistListPerGenre/TattoogendaArtistListPerGenre.php on line 35

Warning: Invalid argument supplied for foreach() in /data/sites/web/inksanebe/www/wp-content/plugins/TattoogendaArtistListPerGenre/TattoogendaArtistListPerGenre.php on line 66