fotorealisme kleur tattoos..
Kleur tattoo van een tijger
Fotorealisme kleur tattoos: een levendige stijl
Fotorealisme kleur tattoos zijn niet ongekend én zeker niet onbemind in de tattoowereld. Ze zijn zo ware een foto die je altijd bij je hebt en die vele ogen zal verbazen. Bij fotorealisme tattoos kan als onderwerp zowel een object als een portret van een dier of persoon zijn. Misschien wil je wel een fictieve filmspeler als tattoo? Alles kan!
Lees hier meer over fotorealisme tattoos in kleur. 
Kleur tattoo kinderportret
Wat is een fotorealisme kleur tattoo?
De tattoo stijl kleur fotorealisme is de opvolger van het zwart-wit fotorealisme. De ontwikkeling van kleur heeft een diepe geschiedenis in de tattoowereld. Deze kan je eerst terug vinden in de Japanse stijl en daarna ook bij Old School. Toen waren de kleuren nog beperkt, maar vandaag hebben we een oneindig assortiment aan kleuren beschikbaar. Dat zorgt ervoor dat we levendige fotorealistische tattoos kunnen zetten waarbij je het verschil tussen een foto en tattoo bijna niet kan zien. In tegenstelling tot zwart-wit fotorealisme is kleur fotorealisme meer opgewekt en helder.
Kleur zorgt voor extra diepte in een tattoo, zeker in combinatie met zwarte en grijze tinten. Het zetten van een realistische tattoo in kleur is een ingewikkelder proces en duurt daarom ook langer. Er moeten verschillende lagen aangebracht worden om het juiste resultaat te krijgen. Kleurenleer is hierbij zeker een must. De artiest moet deze technieken goed onder de knie hebben.
Het doel van fotorealisme is dus om een foto zo realistisch mogelijk te kopiëren op je lichaam. We vertrekken vanuit schaduwen en details. Bij fotorealistische tattoos wordt nooit (of zelden) gebruik gemaakt van lijnen. De typische zwarte 'outlines' rond je tattoo zijn dus niet aanwezig waardoor we een erg mooie en levensechte tattoo creëren. Ook krijgen deze ontwerpen vaak een 3D-effect door het gebruik van schaduwen.
Kleur tattoo halve sleeve
fotorealisme tattoo designs
Alle onderwerpen zijn mogelijk in deze stijl. Vaak worden portretten van onder andere geliefden, bekenden en overleden personen gezet. Ook worden er fotorealistische tattoos gezet van geliefde huisdieren of dieren in het algemeen.
Weet je niet goed wat te doen met al de verschillende stijlen of weet je nog niet precies wat je met de foto wilt doen, dan helpt onze receptie je graag verder. Je kan met een foto en/of idee naar de shop komen en hier laten bepalen wie volgens ons het meest geschikt is om jouw ontwerp uit te voeren.
realistische tattoo laten zetten?
Inksane Tattoos bezit over de ervaren artiesten gespecialiseerd in kleur fotorealisme tattoos.
Al gehoord over de Inksane Art Academy?
Inksane organiseert intensieve cursussen gegeven door de beste, meest ervaren lesgevers. Deze zijn meestal afkomstig uit het buitenland aangezien we ons richten op Europees topniveau. Elke lesgever heeft dan ook zijn eigen specialiteit.
Klik hier om meer te lezen over onze Art Academy.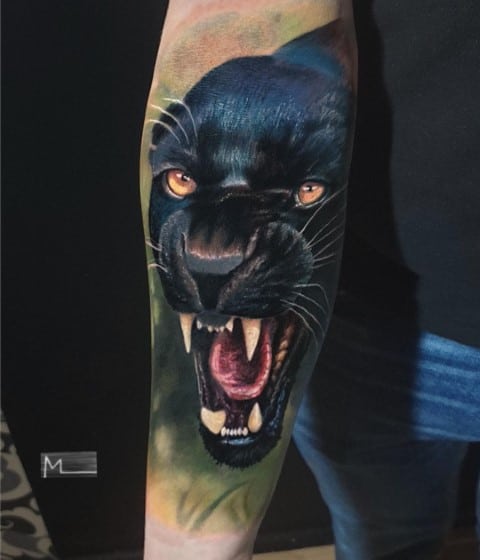 Kleur tattoo van een zwarte panter