Photo realism color tattoos..
Photo realism color tattoos, a lively style
Photo realism color tattoos are not unknown and definitely not unloved in the tattoo world. They are so true picture that you will always have with you and will amaze many people. With photo realism tattoos you can choose the portrait from human to animal. Maybe even a fictive movie star as tattoo? Anything is possible!
Read more about photo-realism tattoos in color here. 
Child portrait color tattoo
What is a photo realism color tattoo?
The tattoo style "color photo realism" is the successor from the black and grey photo realism. The development of color has a deep history in the tattoo world. This can be found first in the Japanese style and after that also in Old School. Back then colors were limited, but today we have an infinite range of colors available to us. This allows us to create vivid photorealistic tattoos where you can hardly tell the difference between a picture and the tattoo. Unlike black and grey photo realism, color photo realism is more cheerful and happy.
Color ensures for extra depth in your tattoo, definitely in combination with black and grey tints. The placing of realistic tattoos in color is a more complicated process and takes longer. Several layers have to be applied to get the right results. Knowing about colors is definitely a must, the artist has to master this technique.
The goal of photo realism is to copy the picture as realistic as possible on the body. We start with shadows and details. With photo realistic tattoos there is never (or rarely) a usage of linework. The typical black "outlines" around the tattoo are not present, which makes the tattoo come to life. These designs also create a 3D-effect by the usage of shadows.
Photo realism tattoo designs
All designs are possible in this style. Often portraits are put for loved ones, celebrities and people who passed away. Photo realistic tattoos are also put by loved pets or just animals in general.
Not really sure what to do with all these different styles, or you don't know exactly what you want to do with your picture? Our reception is more than happy to help you! You can take your photo and/or idea to the shop, and from there on we help you choose the most appropriate artist to work out your design.
Getting a realistic tattoo?
Inksane Tattoos has one of the most specialized and experienced artists when it comes to color photo realism tattoos.
Have you heard about Inksane Art Acadamy?
Inksane organizes intensive courses given by the best, most experienced teachers. They are usually originated from foreign countries since we are targeting European top level. Every teacher has their own specialty.
Click here to read more about our Art Acadamy.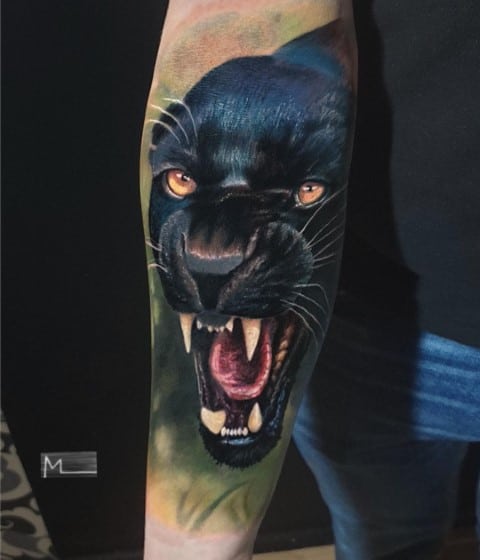 Color tattoo of a black panther