The right artist for your next tattoo
Kimberly Vangeenberghe is een vaste artieste bij Inksane en specialiseert zich in fineline tattoos. Ze werkt het liefst bloemencomposities uit en combineert deze met andere organische elementen of dieren. Kimberly is iemand, recht voor de raap, en zal haar artistieke mening altijd delen met jou als klant. 
Naast tatoeëren is ze ook mama van twee. Een bezige bij dus die weet van aanpakken. Bij haar ben je in goede handen. 
Fineline floral en natuurthema's met zwarte inkt
Kimberly Vangeenberghe combineerde dit schattige vogeltje met een mooie bloemencompositie op de onderarm. Als je goed kijkt, zie je er ook een kleine bij tussen vliegen. Kimberly houdt van detailwerk en versiert je lichaam met de fijnste lijnen. 
This tattoo was done in 1 session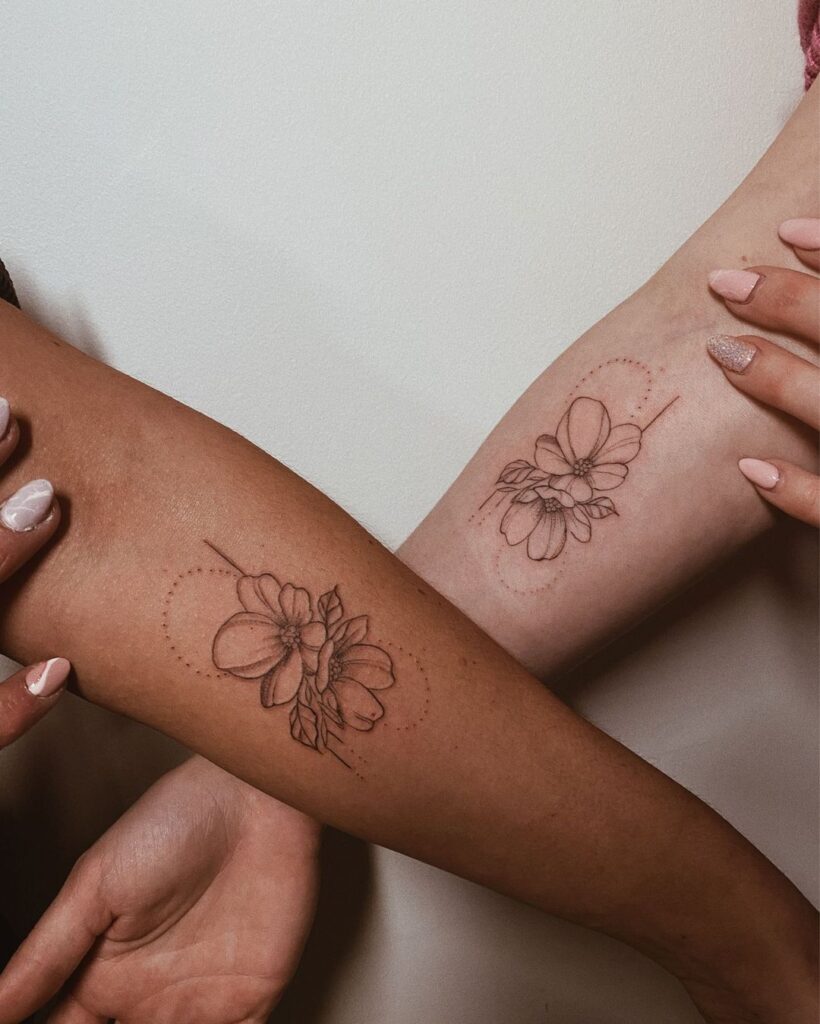 Matching tattoos van Kimberly Vangeenberghe! Ze blijven populair en met alle reden. Als je graag een band met iemand wil vereeuwigen is een eeuwig kunstwerkje op je huid de perfecte manier. Bloemen gecombineerd met geometrische elementen maken een mooi tattoodesign en je kan er heel wat symboliek achter steken. 
Beide tattoos werden gezet in 4 uur.
What our customers have to say
Ik raad 100% Inksane aan! Via de website heb ik een artiest gekozen en mijn ontwerp doorgestuurd. Niet lang daarna werd ik gecontacteerd door de receptie die onmiddellijk concrete en duidelijke info verschafte. Top! Mijn afspraak met Kimberly lag snel vast. Na een eerste meer was ik overtuigd dat Kimberly Vangeenberghe me begreep en had ze mijn volle vertrouwen. Tijdens mijn afspraak werd ik onmiddellijk op mijn gemak gesteld. Het plaatsen liep heel goed, Kimberly is heel zorgzaam en aangenaam. Ik heb haar ook gezegd dat ze haar creativiteit en eigen inzicht mocht gebruiken, en dat werd beloond! Ik ben super happy met mijn tattoo! Na het plaatsen kreeg ik nog de nodige uitleg over de nazorg. Ik zou zeggen: The place to be! Er heerst een professionele, doch collegiale sfeer!
Zeer snel een afspraak kunnen maken, meteen geholpen. Zeer goede match van artiest bij mijn tattoo van Kimberly Vangeenberghe. Heel vriendelijk en houd rekening met mijn wensen. Bij het plaatsen werd er enorm veel gekeken naar hoe het met mij ging, of ik pauze nodig had etc. Supertevreden over het ontwerp die gemaakt werd. Receptie is ook zeer vriendelijk en klantgericht. Ik krijg altijd goede uitleg over de nazorg + je krijgt een formulier mee over alles die je moet weten van nazorg. Ik raad Inksane zeker aan aan mijn omgeving omdat er voor elke soort tattoo wel een gepaste artiest is. 10/10 voor Inksane!
Via mail werd ik meteen voorgesteld aan de artiest die het ontwerp dat ik stuurde kon waarmaken. Verder werd ik netjes via telefoon en mail op de hoogte gebracht van de te volgen stappen. Tijdens mijn eerste bezoek kwam ik meteen tot de vaststelling dat mijn gekozen ontwerp te groot was. Ik kreeg schrik, want het was namelijk mijn eerste tattoo, en ik had helemaal geen idee. Kimberly stelde me meteen op mijn gemak, en stelde een alternatief voor. Na het boeken van een nieuwe afspraak met een nieuw ontwerp, had ik de tattoo die ik wou. Ik werd op mijn gemak gesteld, en kreeg alle info die nodig was. Deze zaak getuigt van professionalisme! Ik ben super tevreden, en mocht ik in de toekomst nog eens zo gek zijn, om ik zeker terug!
Heel goede ontvangst met het samen bekijken voor de tattoo, was super. Kimberly was aangeprezen omdat ze het puntjes-effect en de fijne lijnen van het werk best kan. De dag zelf zonder stress met een goed en vertrouwd gevoel bij Kimberly gegaan. Samen de grootte bepaald en het verliep zonder pijn en stress. Heel vlot. Nadien tattoo bekeken samen. Echt super content en heb voor de eerste maal deze ervaring met een goed gevoel beleeft. Alles was heel net en proper. Ben super content! Thanks!
Bij Inksane hebben we een reeks artiesten die elk in hun eigen stijl gespecialiseerd zijn.
Kimberly Vangeenberghe is er één van.
It is the job of our Inksane reception to match every customer request with the best possible artist. When you send us an email, we'll figure out which style of tattoo you want and therefore which artist is best suited for your idea. Sometimes it might occur that we'll have to email a few questions back and forth in order to have enough info to select the right artists.
Make a tattoo appointment
Als je zelf al een voorkeur hebt voor een bepaalde artiest, bv. Kimberly Vangeenberghe, dan gaan we nog steeds dubbel checken of deze artiest bij jouw project past.
Let's say that's not really the case, then we'll match you with the right artist.
Als bv. blijkt uit je mails dat je vooral realisme wil, maar deze artiest is vooral gespecialiseerd in lijnwerk (wat niet in realisme voorkomt), dan gaan we jou een realisme specialist gaan voorstellen in de plaats.
Choose an artist yourself
Je kan ons voorbeelden sturen van wat je graag ziet, maar dat hoeft niet. Idealiter zijn die voorbeelden werken van Kimberly Vangeenberghe zelf.
Het beste wat je kan doen is in woorden uitleggen wat je wilt: bv. 'Ik wil deze soorten bloemen gecombineerd op mijn onderarm'. Dan gaat Kimberly zelf haar eigen compositie maken met jouw aangeleverde foto
You will get to see your design on the day of your appointment. There is always enough time plenty of time left to adjust it when so desired.
Als je er op staat om je design op voorhand al te zien, bv. enkele dagen eerder, dan kan dat. Het is ook mogelijk dat Kimberly Vangeenberghe tijdens deze bespreking nog even verder moet overleggen voor zij haar design kan afwerken.
An appointment like that takes around 30 min.
Request price and date proposal (free):
Via this form you can tell us what tattoo project you have in mind.
We will give you more information if necessary and a price proposal.
Als dat blijkt niet ideaal te zijn voor Kimberly, maar eerder voor een andere artiest van ons, zeggen we je dat ook.
With the price proposal, you will also get one or more available dates.
You are free to decide if you want to fix a date or not.
This information is entirely free!
The free dates under here are always up to date and only an indication:
Inksane Roeselare
resident artist
Always available at Inksane Roeselare
| | | | | |
| --- | --- | --- | --- | --- |
| 19 okt | 20 okt | 21 okt | 25 okt | 26 okt |
Subscribe here for our Inksane newsletter: